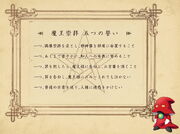 Five Pledges
Edit
The Five Pledges for the Demon King Worship are:
First, if you become a worshipper, you shall enshrine a statue of the evil god in your room
Second, in strict secrecy, you shall strive to spread the word to your friends
Third, if you commit a sin, you shall confess to the Demon Kings, and accept their words
Fourth, if you confess a sin, you shan't cry even if you're ignored by the Demon Kings
Fifth, you shall lead a normal life every day, and not trouble other people
It's implied that the "statues of the evil gods" are the figures released by Hobby Japan/Orchid Seed
There's a form in the official site to "confess your sins" to the Demon Kings, to which they usually reply
Ad blocker interference detected!
Wikia is a free-to-use site that makes money from advertising. We have a modified experience for viewers using ad blockers

Wikia is not accessible if you've made further modifications. Remove the custom ad blocker rule(s) and the page will load as expected.