In this months scans, Belphegor's new pose was revealed! Now I really wonder who i next? Since Satan, and Mammon already have their poses but not the sculpture. I hope they don't skip ahead to Beelzebub since she is a loli and small. That would mean skipping 3 planned figures! Now, I have high hopes for Belphegor since she is with AMAKUNI and its supposed to be their turn, but who knows?
Now we might have to wait for next month's scans, the website to upload something, or just see what happens. We also might have to keep waiting forever for the anime. Some say it might come out in Spring, but again, who knows?  It might take till the end of the year, next year, or for the best, April 2013. :)  But for now im going to be sleeping and checking the website, Orchid Seed's blog, and something else. :P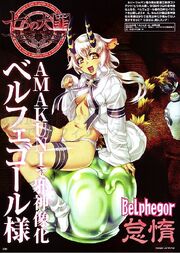 Ad blocker interference detected!
Wikia is a free-to-use site that makes money from advertising. We have a modified experience for viewers using ad blockers

Wikia is not accessible if you've made further modifications. Remove the custom ad blocker rule(s) and the page will load as expected.