In this month's scans,they revealed Satan's new pose for her figure. But I noticed something,how can they do Satan first when Mammon's pose was ready and all that. I've read some comments and blogs that none of them might come out first,but Belphegor or Beelzebub (I have higher hopes for Belphegor) and in a blog of TOMPOP,It said that the rest of the figures for the seven deadly sins line are going to contiune being standard (I'm really happy now). Well if you wanna see Satan,Mammon,Belphegor,or Beelzebub next,we will have to wait for March's scans (April's for the worst) or wait for the official website to update something except for confessions or gallery pics.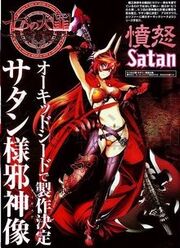 Ad blocker interference detected!
Wikia is a free-to-use site that makes money from advertising. We have a modified experience for viewers using ad blockers

Wikia is not accessible if you've made further modifications. Remove the custom ad blocker rule(s) and the page will load as expected.